A MICRONESIAN CRUSADE will be taking place in September, as Herb and Jan will be island hopping on United Airlines, returning for ministry in the MARSHALL ISLANDS, POHNPEI, CHUUK, GUAM and PALAU. Thank you, partners, for holding us up, and the island people whom we will minister to, in prayer, and with your financial support. These people are so hungry for THE WORD OF FAITH, quick to believe and act on what God says to them. God is doing a quick work, and we know the Holy Spirit will manifest great things in every meeting.
2018  was the most productive/prosperous year Micronesian Life Ministries has had to date. God has proclaimed 2019 the year of abundant harvest, supernatural breakthroughs, marvels, wonders and extraordinary manifestations of the greatness of our God, and we together with our partners expect to experience just that. 
In November, for the first time, Herb ministered with Pastor Turu from Fiji, on the Island nation of Tuvalu, where the normal transportation is a  motorbike. Pastor Turu, who had lived and ministered there before, said "The Word preached and demonstrated with salvations, healing, and miracles changed the thinking of the people there." One man received a new heart, fell on his knees weeping and weeping before the Lord. There is a great awakening happening in the Pacific Islands, and it is so good to be a part of it.
In Sept./Oct. Herb and Jan flew the Island Hopper for a Micronesian Crusade, holding 24 meetings throughout Micronesia. The glory manifested in each meeting beginning in the Marshall Islands! People from 7 denominations came together in Palau to hear and be BLESSED. Many awesome testimonies of what God did through the revelation of The Word have come out of those meetings. An airplane crashed on landing the day before they were to arrive on Chuuk, shutting down the runway, but it was reopened so the Truth could be preached in two churches on Sunday, and there were salvations, healings, and deliverances. The Marshallese Church family in Guam, along with a visiting pastor from Saipan, said: "You came just at the right time –we are so BLESSED". To God be the glory –great things He has done!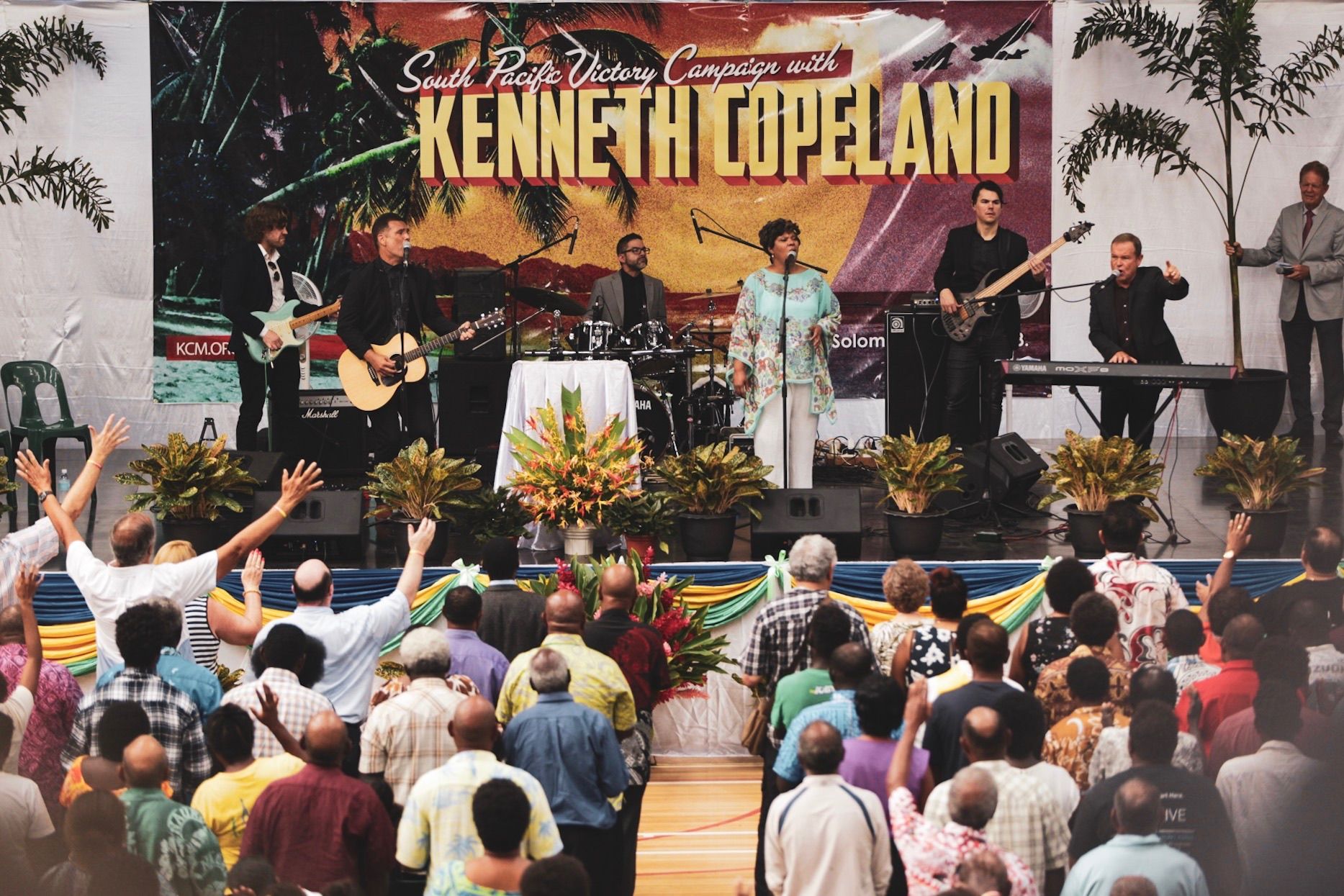 Herb made trips to the Solomon Islands in February, April, and June to coordinate the July SOUTH PACIFIC VICTORY CRUSADEwith International Speakers: Kenneth Copeland, Jerry Savelle, and Jesse Duplantis. Over 20 denominations, with over 180 volunteers working together, everyone doing his part was so amazing.Herb was Blessed and busy in coordinating, and working together with the island pastors and leaders, and the Kenneth Copeland Ministry team of 21.    There were over 10,000 who attended the final meeting which was held in an outdoor stadium bigger than a football field – with most people sitting on the ground. Over 2,000 salvation cards were filled out.   The Word preached was so powerful, and the people so hungry and receptive to hear the Truth about the goodness of God.   Heaven recorded many miracles that took place during those meetings!
In March, Micronesian Life Ministries, together with Thy Word Ministries –Kau'coordinated a 4 day BIG ISLAND, HAWAII CRUSADE with international speaker Jerry Savelle.   Over 400 attended, and many were saved, healed, and changed by the powerful good news of the gospel preached.    God is showing HIS GLORY IN THE ISLANDS – "And the glory of the Lord shall be revealed, and all flesh shall see together: for the mouth of the Lord has spoken it"- Isaiah 40:5.